presents
The Best Fresh Water?
Swimming, Water Skiing, Snorkeling, and Fishing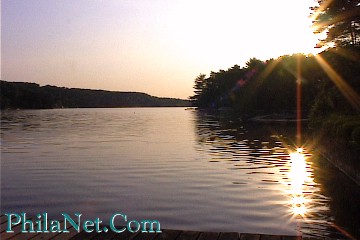 Mulitmedia Downloads, Maps & Links
6.3M Microsoft .AVI Video
Includes a sunrise over the lake and footage looking up through woods.

MP3 Soundtrack
Acoustic guitar accompanied by red squirrels and a variety of birds.
Clear Clean Water
In the heart of Pennsylvania is Schuylkill County. It is scattered with rural communities that are appreciated for their downhome hospitality. Between two of these towns, Schuylkill Haven and Auburn, is the deepest man-made lake in the state of Pennsylvania -- Lake Wynonah.

In the 1960's, one of the tributaries to the Schuykill River was acquired and dammed by the GE Corporation. The plan was to create a corporate retreat. Halfway through the project, and after the dam was constructed, the plan seemed to have changed.

According to the local folk, when GE's west coast executives heard the news, they said:
Where the heck is Auburn, PA?
Once they looked at a map, the project was scrapped and sold to a developer.

It remains a privately owned body of water. In order to use the lake, you must own property in the surrounding residential development. This is exactly what caused me to become a land owner.
Why I Love Clear and Safe Water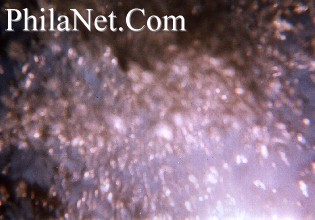 I love water sports, swimming, water skiing, snorkeling, diving, boating, fishing, and underwater photography, just to name a few. A few years ago I was pulling a water skier in the Delaware River. Another boat made a high-speed erratic move, and nearly killed me. After that experience, I thought about giving up water sports... at least if it meant that I had to share over crowded and dirty public waters with crazy and/or unskilled operators.

It wasn't long before the skier that I was pulling that day came to me to say, "I think I found a great place to ski." So, we took a look and here is some of what we found.
Supreme Water Skiing Conditions
Wow! Is there anything sweeter than rolling out of bed and catching a morning slalom run on the wakeless surface (glass) ? I know... catching the last run of the day as the sun begins to sink under the glass.
Unbelievable Fresh Water Visibility
Spending long periods of time underwater can be fun. It certainly helps if you can see. Since this dam is fed by springs and small mountain streams, it offers some of the most extraordinary fresh water visibility. Snorkelers can expect 20-50 foot of submerged visibility. A wide variety of vegetation and wildlife is routinely visible including, bass, sunnies, mussels, snails, turtles, snakes and diving birds.
Fish, Fish and Fish
The lake offers some fine fishing. Though bass, pike and sunnies are the most common species, you never know what you might catch. Unfortunately for me, I continue to catch sight of larger fishes than I actually catch. For instance, on a recent dive I saw a 24" long x 12" high bass. But, I have yet to eat anything that large.
A Safer Environment For Boating
Since you must be a landowner to use the lake, overcrowding has never been a problem. During peak times on Saturday and Sunday afternoons traffic does climb, but there is nowhere near the traffic found on public waterways.

Another advantage is the requirement that all boat operators pass the Coast Guard boating course. Boating permits are not issued until you show proof of completing a certified course. This might explain why I have never seen, nor have I heard of, an accident on the Lake.
A Wide Variety Of Wildlife
As mentioned above, there are a lot of fish. In one of the coves that I frequent for diving, I enjoy dropping down about 10 feet and spinning around on my axis. The fun part is to estimate how many fish you can see. Sometimes there are hundreds of eyes lined-up and looking straight at you.

Birds include: hawks and other birds of prey; water fowl like mallard ducks, Canadian geese, and loons; mammals, such as, red squirrels, ground hogs, rabbits, and the infamous white tailed buck.

You might also find some interesting reptiles like the painted turtle, garter and water snakes (non-poisonous), frogs, toads and newts.

The Appalachian Trail and Pennsylvania Game Lands are within several miles offering even more hiking, hunting and photo safaris.
Directions
From the Philadelphia Region, take the Northeast Extension of the Pennsylvania Turnpike to the Lehigh Valley Exit (Allentown) and head west on Route 78 (also known as Route 22). Lake Wynonah is several miles north of Exit 7 on the right hand side of Route 183.