presents
The Appalachian National Scenic Trail
Schuylkill County, Pennsylvania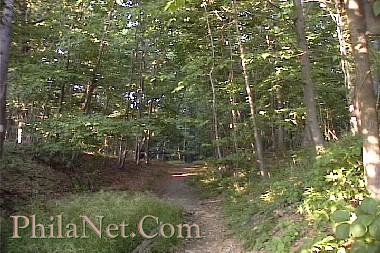 Mulitmedia Downloads, Maps & Links
Blue Mountain, Schuylkill County, PA 10M Microsoft .AVI Video. The First half is a ride down the North face. The second half is a ride down the South side.

Appalachian Trail 4.5M Microsoft .AVI Video. This is the scene as you enter the trail from Route 183.
A Scenic Wonder By Foot
In the heart of Pennsylvania is Schuylkill County. The Appalachian Trail, which runs from Maine to Georgia, passes through Schuylkill County. At this point, the Trail runs along the ridge of Blue Mountain to the Hawk Mountain Sanctuary. Hawk Mountain obtained its name from the large number of birds that can be seen soaring overhead. This section of the Trail is known for its rocky terrain, as well as, being a marvelous place to view the finest in Pennsylvania flora (plants) and fauna (wildlife). Besides hawks and birds, common encounters include white tail deer, turtles, snakes, raccoons, groundhogs, and an occasional bear or bobcat. The state tree, Hemlock, and the state flower, Mountain Loral, are plentiful along the route.
Who's In Charge
Each section of the trail has its own rules. In October of 1921, volunteers initiated the Appalachian Trail. They did not complete it until August of 1937. By the fall of 1968, the U.S. Government made the Appalachian National Scenic Trail part of the newly established National Trail System.

The Appalachian Trail is a 2,158-mile (3,480.6 km) footpath along the ridge crests and across the major valleys of the Appalachian Mountains (from Maine and traversing through New Hampshire, Vermont, Massachusetts, Connecticut, New York, New Jersey, Pennsylvania, Maryland, West Virginia, Virginia, Tennessee, North Carolina and Georgia.)
The Trail is managed by volunteers in 32 local clubs under Appalachian Trail Conference auspices through a cooperative agreement with the National Park Service.
The Trail is primarily used by weekend and other short-term hikers. Long distance hikers, known as "Thru-hikers", generally start from Georgia in the early spring and hike the entire length in 5 to 6 months.
The part of the Trail in Schuylkill County passes through Pennsylvania State Game Lands. It is recommended that you plan your trip around hunting seasons and become familiar with local rules prior to your departure. Please remember to take EVERYTHING home that you bring with you to the Trail. You should be responsible for your own trash removal and personal hygiene.
Mailing Address for Official Visitor Information
Appalachian Trail Conference
PO Box 807
Harpers Ferry, WV 25425-0807
Telephone: 304-535-6331
| | |
| --- | --- |
| Blue Mountain: Summit Looking North | Blue Mountain: Summit Looking South |

Lake Wynonah
The best fresh water swimming, water skiing, snorkeling, and fishing?