Playing The Game Of Living
(S.O.S. from KingArthur.com)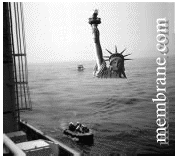 If you landed directly on this page, you may want to start at the beginning.
$100 Reward -- Reward conservation. Tax pollution!
A gift for $100 was given to the youngster who made the following suggestions:
World leaders give speeches.
Move to Mars, build a space ship or some other type of Noah's Ark.
Move under water like the city of Atlantis. (Using water to protect ourselves from the environment. Expression of this idea has led a player to the $1,000 reward.)
Build walls around land or build artificial land.
Plant more trees.
Pray for forgiveness.
Reduce dependency on electricity and oil.
Build a missile defense system. Not a missile defense system against other humans. But, instead get all humans to work together to build a missile defense system against approaching meteors or other threats.
Pay money or reward people for recycling.
Tax pollution or punish polluters.
These are all good ideas. Some of them are already being tried without much success (such as, world leaders giving speeches at the U.N.) Building a space ship or escaping from Earth is the least likely to make sense. After all, aren't we already on a giant space ship -- Earth?
The last 2 answers might make a big change to our environment in short order --
Reward conservation. Tax pollution!
© 2003 Philadelphia Spirit Experiment & KingArthur.com